ALO TO ALL MEMBERS OF Froum CB1300.DE
My name is Jose Geraldo Machado, got 57 years, live in the city of Penápolis, State of Sao Paulo, Brazil.
We have an average temperature above 20 degrees, and in warmer weather arrives this tempertures atá more than 40 degrees. I am motorcyclist since 1977, already had several bikes: CB 400, CB 450, CBX 750, and currently have a CB 1300 SF 2008.
I am part of the CB 1300 Team, (
cb1300sf.com.br/1300sf/index.php
) and also the group CBX 750 Four.
We have many gatherings of bikes in my region, where all types of riders are present, to exchange ideas, talk about bikes, and above all fun.
In November 2008, I organized a meeting of CBX750 F in the town of Penápolis (
inema.com.br/mat/idmat103577.htm
) which saw bikers from several states, and the greater distance traveled were motorcyclists who came from the State of Rio Grande do Sul, just 1400 KM, to meet our friends and spend hours talking and drinking some cold beers.
My thanks for accepting my registration in CB1300.DE forum, and I put myself available to all, even if one ever comes to Brazil, come to know the city of Penápolis.
Grateful
Machado
(I can not speak English or German, but I use a tratudor OK.)
Below are some links where you can see the events we hold in our region
maps.google.com.br/maps?f=q&so…=13&lci=com.panoramio.all
(City of Penápolis, Google Maps)
inema.com.br/Albuns/0083223/
inema.com.br/Albuns/0086807/
inema.com.br/Albuns/0085641/
(this churraco was in my house)
inema.com.br/Albuns/0085868/
inema.com.br/Albuns/0086854/
inema.com.br/Albuns/0086855/
(this dinner could not go on motorcycles, it rained a lot, for our security we drove)
inema.com.br/Albuns/0086950/
(this meeting was the city of Tres Lagoas, Mato Grosso do Sul, was attended by about 5000 bikes in three days of event)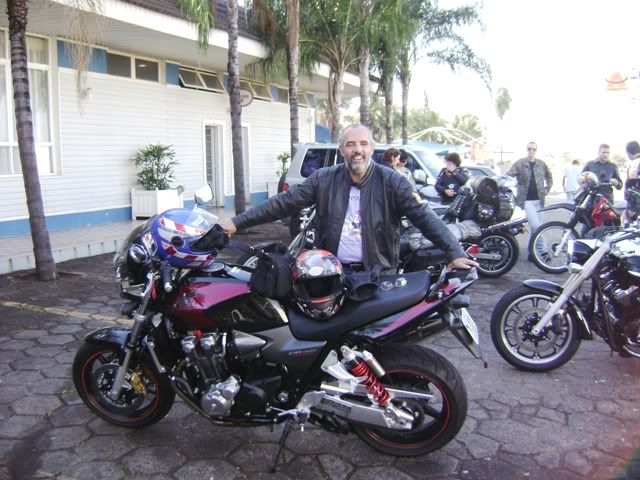 (This is me )
"Each passing minute may be all I have left to live, but I waste time as though it were infinite. "
Dieser Beitrag wurde bereits 4 mal editiert, zuletzt von "Machado" ()